Stories and Places
of
Irish Myth and Legend
Established 1995
---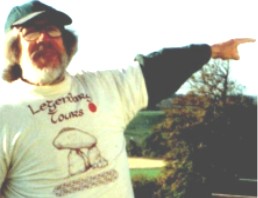 Story-teller Richard Marsh leads groups to prehistoric, historical and legendary sites to tell stories of magic and mystery, heroic deeds and monumental folly, cunning tricks and black humour from the most vibrant traditional literature of Europe. (About the Legendary Tours T-shirt)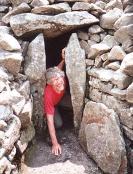 Irish myth and legend come to life in a special way "on location" at Stone Age passage tombs, Bronze Age stone circles and dolmens, Iron Age hill forts and ring forts, standing stones, ogham stones, earthworks and raths.

The passage tomb at Seefin (left) in the Wicklow Hills is one of the "re-birthing chambers" or Sidhe (fairy) mounds visited on some of the Tours.

Each of the four one-day Tours goes to an area near Dublin and features one branch of the four traditional story cycles:

Also included are local tales such as the Púca, Hempenstall the Walking Gallows and fairy trees, and stories of Saints Kevin, Patrick, Mo Ling, Colmcille, Brigit and others.

Unsolicited testimonials from repeat tour clients:

"I have raved about your tours ever since to any of my friends that were considering a trip to Ireland!"

"We often recount our exploits with you to others (the climbing over stonewalls, stepping in cow piles, scrambles up mottes and down baileys....and especially the lovely stories)."
[Note: stepping in cow-piles is optional.]

These are non-scheduled custom tours.
See Prices and Arrangements for booking details.
---
THE STORIES ON TOUR

For those who can't come to the places in Ireland,
Richard travels to other countries to tell the stories.
Next storytelling tours outside Ireland:

TBA
---
Here is a list of recommended books for your background reading.

Dates in Irish Myth and Legend

Links to other sites of Irish/Celtic interest
---
---
The Legendary Tours website has received a

as "one of the best on the Internet when reviewed for quality, accuracy of content, presentation and usability".