Southwest Wicklow
The Historical Cycles
---
The Places
Bearna na Sciath (Gap of the Shields)
One of the oldest roads in Leinster, route taken by invaders from the north, protected by ring forts (shields) on top of hills
Donard (Dún Árd = High Fort)
Site of one of three churches founded by Palladius (Patrick's unsuccessful predecessor) in Wicklow AD 431
Glen of Imáil
Seat of power of Leinster kings during the Iron Age (500 BC - AD 700)
"The Holy Stone" - Bullán Stone
This is a multiple bullán -- a large flat stone with several bowl-like man-made depressions dated to medieval or early Christian or pre-Christian times. Bulláns are usually found in low, wet land. Archaeologists theorize about their use: communal grain or iron ore grinding, ritual herb or grain grinding, oil lamps. They have been and still are used as cursing or prayer stones. An unjustified curse will rebound on the curser. The Big Wind of 1838 is said to have been caused by a woman using cursing stones. In 1884, Tory Islanders turned the stones against the British gunboat the Wasp, which was bringing police and troops to the island to collect taxes. The boat sank with loss of life.
Knickeen Ogam Stone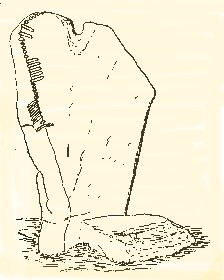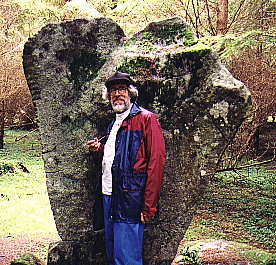 The harp-shaped Knickeen Ogam Stone in a forestry plantation in the Glen of Imaal. The inscription reads "MAQI NILI - The Son of Nili".
---
---
---
---
---
---
---
---
---
---
We spend most of our time rambling round Kilranelagh Hill, where we see the following.
Stronghold of Leinster kings, the largest hillfort in Europe (132 ha), site of the Battle of Dún Bolg in the Bórama saga
Boleycarrigeen ("summer pasture of the small stones") Stone Circle
Bronze Age (c. 2000 BC); known locally as the "Griddle Stones"
Bae Aife ("cows of the slope")
Large white quartz boulders, a landmark in the story "Fingal Rónáin" and other early legendary history stories.
St Mary de Hogge's
Ruins of 14th century nunnery
Crossoona Rath
("Cross of Úna", pronounced "krishoona")
Iron Age homestead with an ogam stone
St Brigid's Head Stone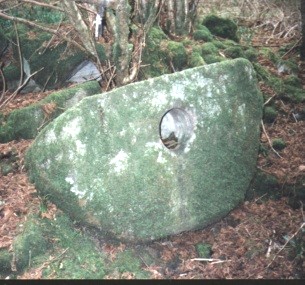 ---
There are two explanations for the Irish name, cloch na gceann ("stone of the head"). One is that Cummascach, son of the high king Aed Ainmire, was decapitated here in the Bórama saga.
The other comes from a local practice of putting one's head in the hole to cure a headache. Coins, candle stubs, holy medals and pictures have been left in the hole in thanksgiving for a cure. It works, according to one woman who I watched try it. But don't put your head in the hole if you don't have a headache. I saw the opposite of a cure happen, too.
---
---
St Brigid's Chair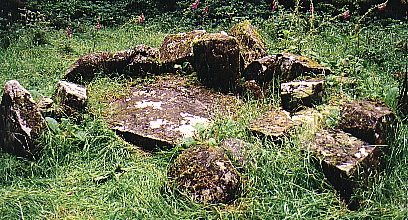 Bronze Age tomb Christianized with a cross
---
Kilranelagh Cemetery - Gates of Heaven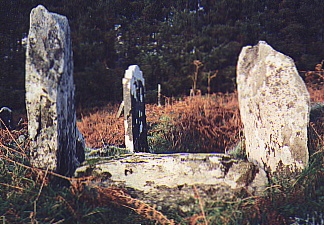 ---
It is a local custom to carry a coffin between the orthostats of this ruined prehistoric tomb, so that the deceased will go straight to heaven. Aedh Ainmire -- sixth-century High King -- was buried in this cemetery, after losing the Battle of Dún Bolg in the Bórama saga. The cemetery is next to Kilranelagh (14th-century ruined) Church, thought to be St Mary de Hogges nunnery.
---
---
Kilranelagh Cemetery - Sam Macalastair's Grave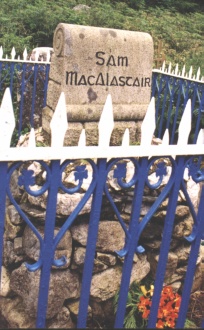 In February 1799, Sam Macalastair gave his life to save Michael Dwyer, hero of the 1798 Rebellion and guerrilla leader in South Wicklow for 5 years after the Rebellion ended, at the siege of Derrymuck in the Glen of Imáil. On the 200th aniversary of this incident, local people placed flowers on the well-tended grave, which is surrounded by symbolic pikeheads.
Dwyer's and Macalastair's names appear on this commemoration stone in Glenmalure, one of Dwyer's bases of operation: "In remembrance of those who fought bravely for Freedom and Justice from these mountains."

---
---
---
---
---
The Stories
The great Leinster saga The Bórama (The Cattle Tribute) tells how the High King imposed a massive tribute on Leinster in the first century, and how following kings tried to enforce it -- with varying degrees of success -- for 600 years, until Saint Mo Ling ended it with a verbal trick.
The medieval historical fiction "Fingal Rónáin" (The Kin-slaying of Rónán) is a soap opera of lust, blood and violence.
Sam Macalastair and Michael Dwyer
St Brigid legends - St Brigid's Cloak and others
---
Photos of Macalastair's Grave, Knickeen Ogam Stone and St Brigid's Chair by Janine Bronkan
Go to

Main Page